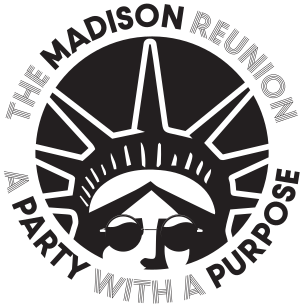 Welcome: with Madison Mayor Paul Soglin and Dean of the College of Letters & Sciences Karl Scholz.
Free Trolley Tours of Langdon St., State St., Mifflin St., Frank Lloyd Wright's Monona Terrace and The Otis Redding Memorial Park.
Concierge Service: Take a trip to Taliesin, find a restaurant, go shopping and more.
View concierge service here
Music: Free and Live, every night, on the Memorial Union Terrace.
View free music events here.
Films: Sponsored by the UW Cinematheque; films under consideration include Godard's La Chinoise, Fellini's Satyricon, Easy Rider, Blow Up, The Graduate, 2001: A Space Odyssey, Gimme Shelter, Petula and a newly remastered version of "The War at Home" Glenn Silber's award winning documentary on the DOW demonstration. And in the Memorial Union's Festival Room "Gold, the Future of America!" (Friday)
Dance: Anna Halprin's Parades and Changes; the artist as activist, at the H'Doubler Theater Thursday, June 14th, 5 - 7PM
Exhibitions: Exhibits in the Union Gallery and State Historical Society. '60s Focused Exhibitions at Madison Museum Of Contemporary Art, The Chazen Museum, The Memorial Union Galleries, the Dane County Airport Gallery and "Sixties Revisited" at the Overture Playhouse Gallery (Reception, June 13, 6-8 PM)
Electronic Bulletin Board: Find friends, leave messages.
The Memory Booth: Record your most vivid recollection of the times.
Merchandise: T-shirts, Tote Bags, Hats, Mugs, more...
Housing: Relive your life in the dorms or find a hotel close by, we'll help. View housing here.
Ticketed events: View ticketed events here.