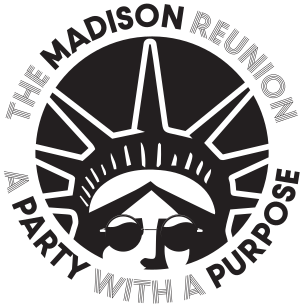 Reunion events are free and open to all!
Welcome: Thursday, June 14, 11AM; a gathering on the Union Terrace with Madison Mayor Paul Soglin, UW Dean of L&S Karl Scholz and Madison Musician Ben Sidran. National anthem performed by Jimi Hendrix; fly-over performed by Lake Mendota ducks!
Trolley Tours of Madison, leaving every 45 minutes from the Memorial Union, Thursday Noon - 4PM, Friday and Saturday, 10AM – 4PM; find out where you went wrong!
Tours of the UW Campus on the MG&E Electric Bus, leaving every 45 minutes from the Memorial Union, Thursday Noon - 4PM, Friday and Saturday, 10AM – 4PM; power to the people!
Concierge Service: Take a trip to Taliesin, find a restaurant, go shopping and more.
View concierge service here
Music: Free and Live, every night, on the Memorial Union Terrace.
View free music events here.
Films: Blow Up, Monterey Pop and The War at Home at the UW Cinematheque, Vilas Hall, 821 University Ave. (at Parks St.) room 4070
Films and Times
Dance Performance: Anna Halprin's Parades and Changes; the artist as activist, Thursday, June 14, 5:15-6:15 PM, Memorial Union Frederick March Play Circle Theater
More about Anna Halprin and Parades and Changes
Exhibitions: Sixties themed art exhibits all around town.
View exhibit info here.
Madison Night Market Thursday, June 14, 6PM – 11PM; a celebration of Madison's unique and inspiring creative culture. Vendors showcase handmade products, local art, artisan gifts, prepackaged foods and fresh produce. The event includes live music, special visiting food carts and pop-up restaurant experiences. Retail stores will be opened late, restaurants will have special offers and 40 – 60 unique vendors will be on Gilman Street.
The Memory Booth: Record your most vivid recollection of the times.
Madison Story Tellers sign up sheet; pick your time, come to the Profile Room in the Memorial Union and share your favorite memories of Madison with the Oral History Program.
Click here to sign up
Ice Cream Social, Saturday June 16, on the Union Terrace, 5P until the cream runs out! strawberry fields forever!
Dance Party; Motown v. Stax Smackdown! Saturday, June 16, 8PM - to 10PM in Great Hall with celebrity deejay Stu Levitan
The Human Be-In, Sunday, June 17, 10AM at picnic point; last exit before freeway!
Pop-up Shop; Reception Room, Memorial Union. Purchase merchandise, find friends, check out the bulletin boards and more. Hours: Thursday noon - 5P, Friday 10 - 5P, Saturday 10 - 5P
Housing: Relive your life in the dorms or find a hotel close by, we'll help. View housing here.
Ticketed events: View ticketed events here.

Ninth Annual World Naked Bike Ride Madison, Saturday, June 16 at 11AM. Click here to sign up (and for last year's photos): http://www.wnbrmadison.org.